Little San Salvador Island, also called Half Moon Cay, is a tiny private island in the Bahamas located between Eleuthera and Cat Island. 
Accessible by cruise ship, it's known for the long, crescent-shaped Half Moon Beach. Luxury cabanas dot the beachfront, which gives way to trail-lined country rich in birdlife. Half Moon Lagoon Aqua Park has water slides and playgrounds. Stingray Cove, a lagoon enclosure, is home to tame stingrays.
Half Moon Cay is pronounced Half Moon KEY (not CAY, despite the spelling) and is owned by Holland America which is owned by Carnival Corp. 
Half Moon Cay is currently a tender port, which means you take a small boat from your cruise ship to the island. However, plans to develop a dock is planned.  
Size: 2,400 acres (50 developed)
Languages: English
Currency: United States Dollar
Cruise Port: Half Moon Cay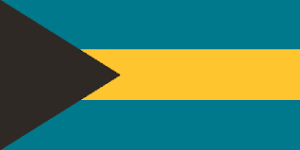 Our time in Half Moon Cay! (Blog entries)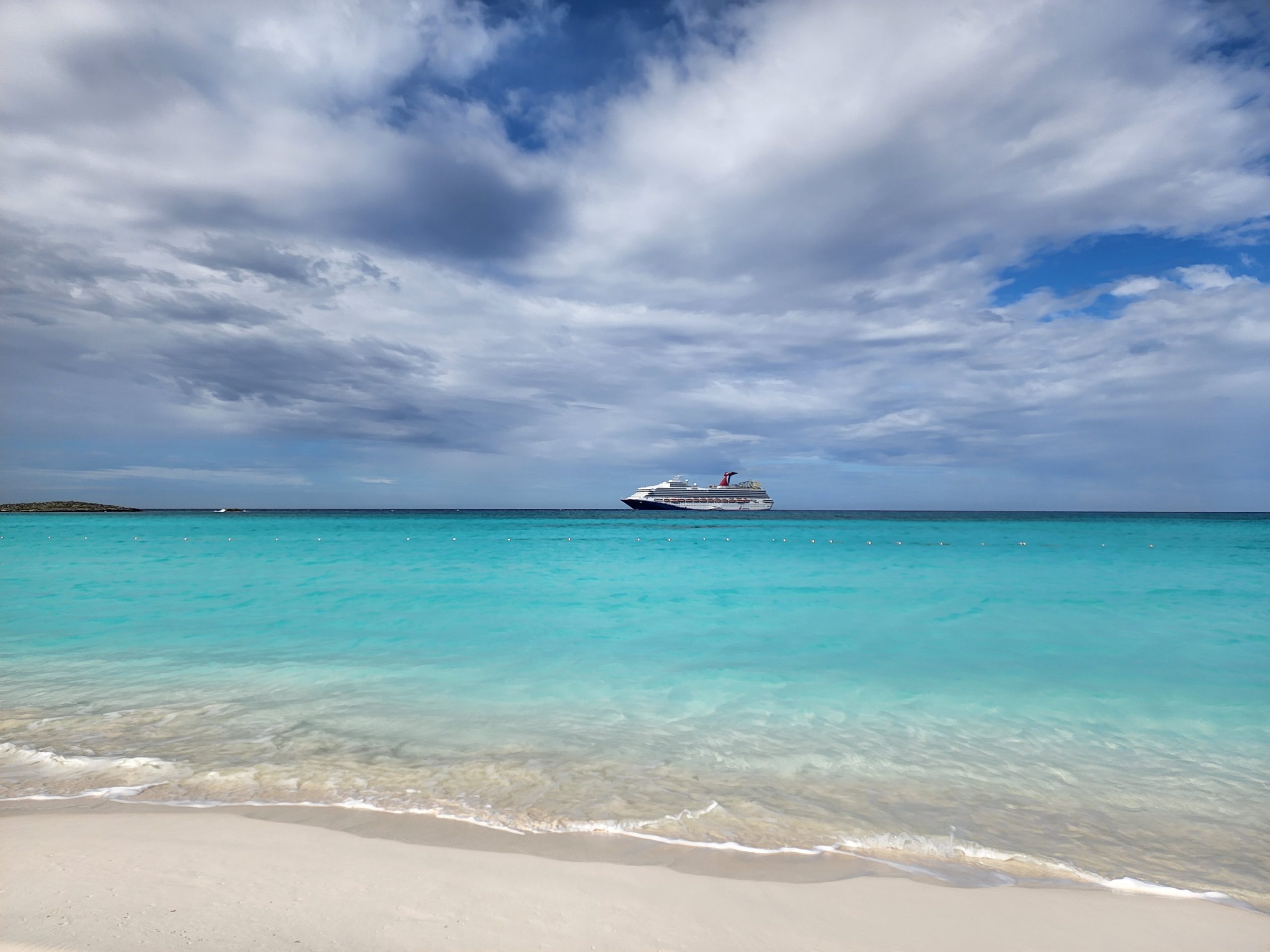 Day 1 It seems all of my cruise blog entries start out the exact same way, with picking my son up from school. This is no different. We decided to leave for Charleston on Wednesday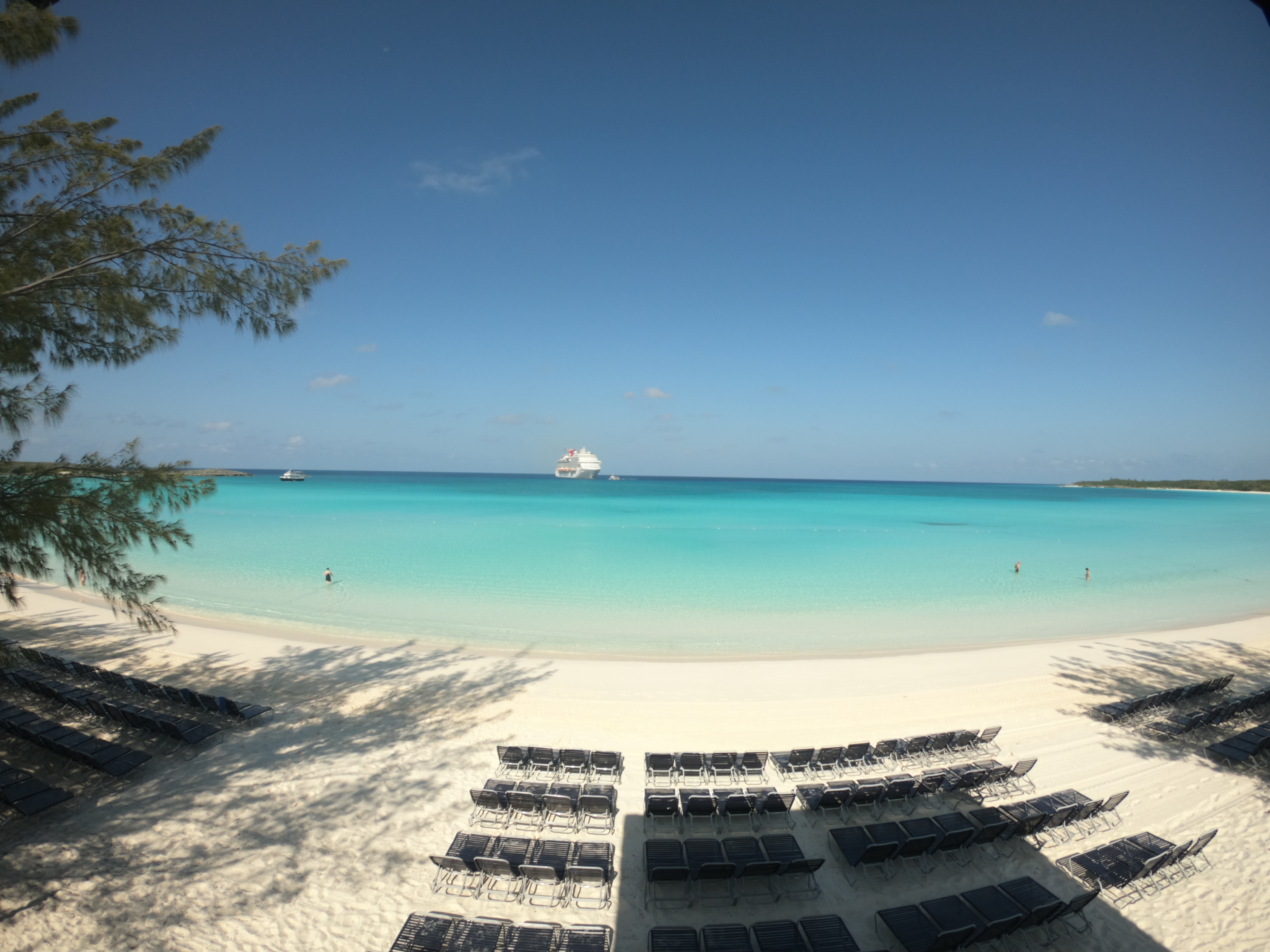 Sunday, May 26, 2019 Half Moon Cay, Bahamas Despite the spelling, this island is pronounced Half Moon Key.This is our favorite island ever, and it's not even in the Caribbean! I am not a fan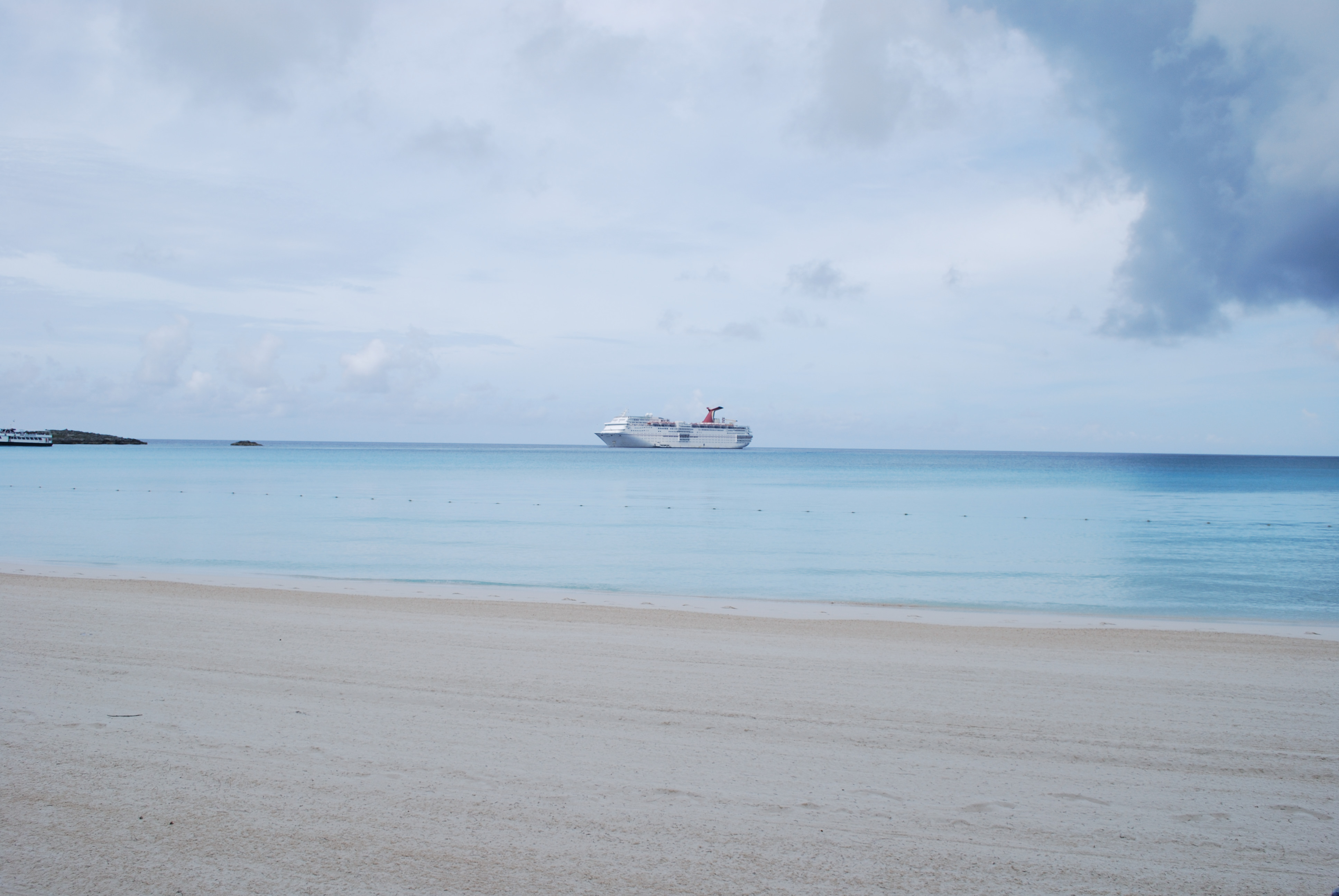 Half Moon Cay is probably the most beautiful place on Earth. It's a private island owned by Holland America Cruise Line, which is a subsidiary of Carnival Corp.  The sand is as soft as baby
Your day in Half Moon Cay
Half Moon Cay is a tender port, so you will anchor off-shore and take a small boat onto the island.
Once you arrive at the island, you will enter at a few little tents of people trying to sell things from the neighboring island of Eleuthera. There is also a little hut to sign up for island excursions, and you can go straight to the beach from there.
There are plenty of lounge chairs you can pick from, or you can rent clam-shells. There is also a little water area for children.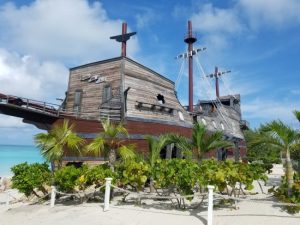 Around lunch time, there is a free buffet that you can eat at and enjoy yourself. They have hamburgers, hot dogs, BBQ, fruits, you name it. You need to go earlier rather than later because they do run out of food.
There is a wooden ship bar here you can grab your drinks at if you wish to drink while you're relaxing on the island. 
The sand is baby powder and the water is a perfect temperature and is as clear as your swimming pool. Half Moon Cay is amazing. 
One thing to keep in mind, to get a good seat you need to get there early. People with excursions get priority tendering, meaning they will get to the island first.
Personally we have never been to the island where we did not have a villa or cabana. They are a must for us.  
The villas are amazing. They are 2 stories tall and include 4 lounge chairs (2 upstairs, 2 downstairs), a kitchen table with chairs, a refrigerator, a hot tub, a shower, a bathroom, floats and snorkel gear for everyone in your party as well as floats for the ocean. They are air conditioned.
They also provide you with enough chips, salsa, fruit, water and soda for everyone in your party also.
The villas cost $599.99 for the day and can be booked under the Half Moon Cay excursions from your Carnival cruise manager.
THESE BOOK UP FAST SO BE SURE TO BOOK ONE AS SOON AS YOU BOOK YOUR CRUISE. 
In my experience, they usually book up within 2-3 days of going on sale, about a year-18 months prior to your cruise.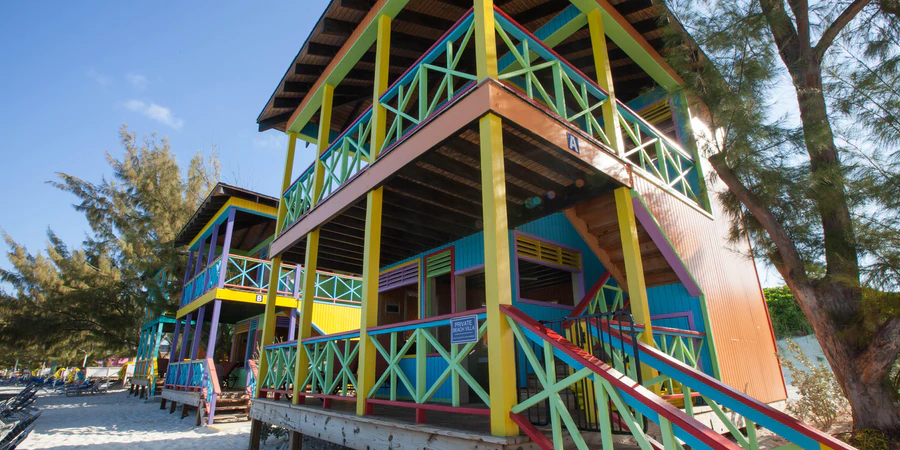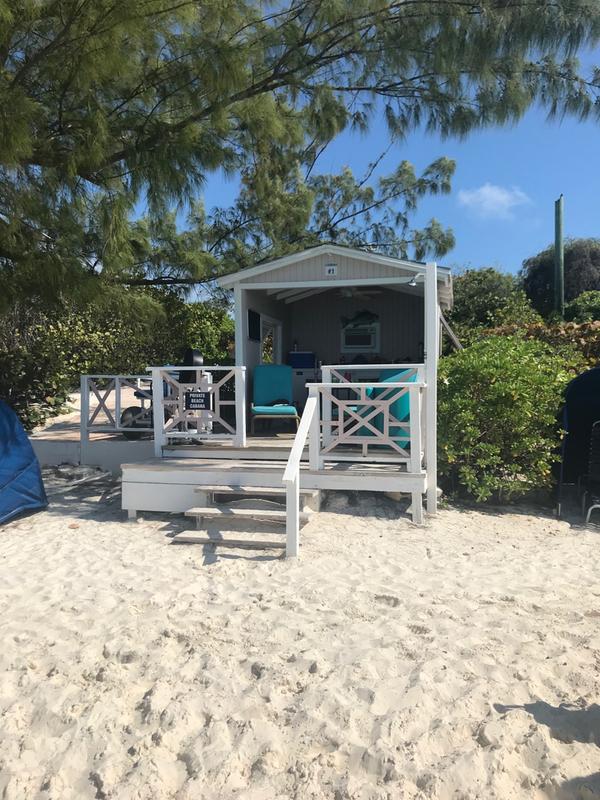 The cabanas are great also if you don't want to spend the money on a villa. The cabanas come with 2 lounge chairs, an outdoor shower, an air conditioner and a refrigerator.
They also have a table and chairs and are provided chips, salsa, fruit, water and sodas as well as the floats. The cabanas are very nice also. 
The cabanas cost $359.99 for the day and can be booked under the Half Moon Cay excursions from your Carnival cruise manager.
THESE BOOK UP FAST SO BE SURE TO BOOK ONE AS SOON AS YOU BOOK YOUR CRUISE. 
In my experience, they usually book up THE SAME DAY of going on sale, about a year-18 months prior to your cruise.
The cabanas and villas both are numbered. You cannot reserve a number when you book them.
However when you embark your ship, go straight to guest services and reserve your cabana number. You will also tell them then what size show you wear for your snorkel gear, and what type of sodas you want at your villa/cabana. 
When selecting your cabana or villa, the numbers/letters start off low. Cabanas are numbered, villas are lettered. If you want to be near the loud music and large crowd of people, then you want to pick a low number/letter for your cabana/villa. 1-5 and A,B,C are close to all of that. You'll be right in the mix of the action.
If you want more seclusion and serenity, then pick a higher number/letter. Cabanas 6-15 are your best bet for that, with 15 being the better end of the scale. The villas, D & E are the furthest away. 
One thing to keep in mind that while you have your own private cabana/villa, the area right in front of you is open to anyone. There could be a party of 10 people come sit in the lounge chairs right in front of your location.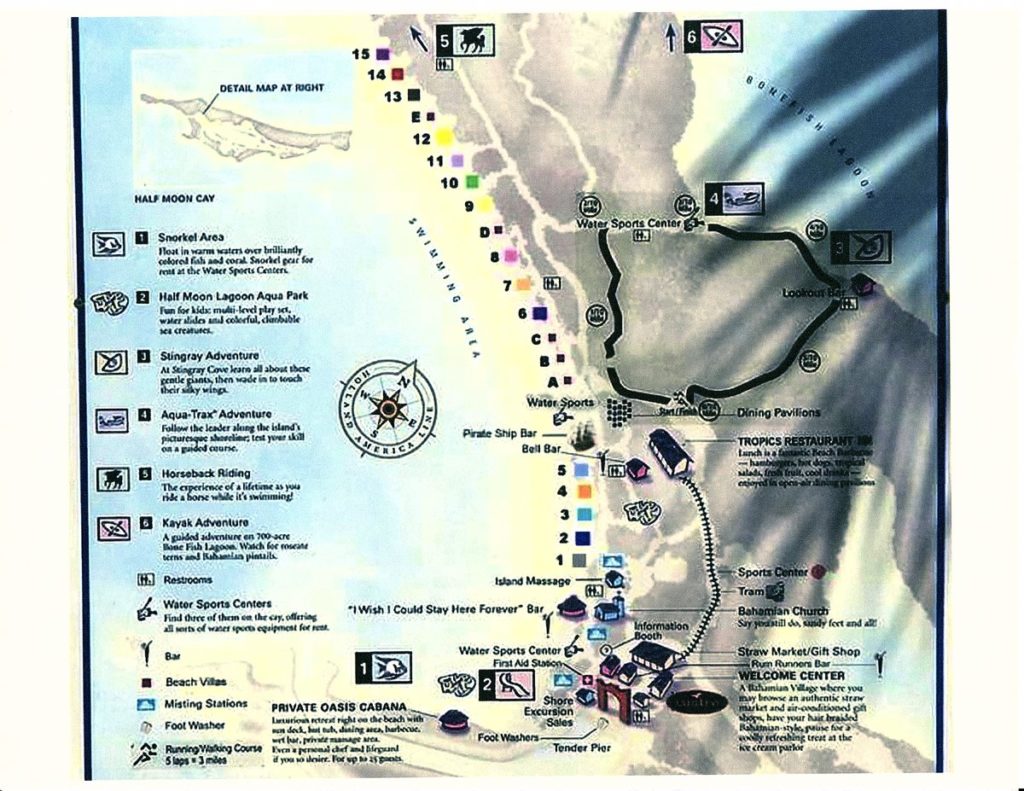 Cheers! & Bottomless Bubbles at Half Moon Cay
One thing that's confusing to new cruisers is how their Cheer's (drink) package works. A lot of people are under the misconception that everything is included, everywhere. It's not.
Once you leave the ship, your drink package is invalid. This is no different at Half Moon Cay.
If you want a drink at Half Moon Cay, you're going to pay for it. Your drink package does not work on the island, so be prepared. Also if you want to shop on the island (limited), then you need to bring cash. The locals do not accept your sail & sign card. 
The prices on this list are from 2018 so they could have increased slightly. If you are in Half Moon Cay and get an updated price list to send me, it will be greatly appreciated. Otherwise, if you rent one of the above items and the price is different, please let me know so I can update this list. Thank you!  
Other things to do on the island
Beaches
The island is known best for its white, baby powder sand and its tranquil, crystal clear water. There is plenty of beach space for you to enjoy without being too crowded. Grab a lounge chair and enjoy your day by the beach. Half Moon Cay has the nicer beach than other private islands such as Princess Cays.
Watersports
There are plenty of watersports activities you can enjoy on the island such as sailing, kayaking, catamarans, water bikes and snorkeling. 
Hiking
There are trails where you can walk on the island and explore some  of the wildlife on the island such as the wild chickens, at least 47 bird species, and other natural beauties.
Massages
There is an air conditioned cabana on the island that offers massages. The massage specialists will come off of the ship and give you a fantastic massage on the island. 
Hair braiding
Some of the locals will come over from Eleuthera for the day and braid your hair for a charge. This is fun especially for the kids.
Kids activities
Around the pirate ship is a water park for the children to play in. This is a safe area and there are plenty of water toys for the young kids to play with. 
Shopping
There isn't much shopping on Half Moon Cay compared to other ports, but there are a few tents operated by Eleuthera locals where they sell their goods. You will need cash for these tents as they do not accept your sail & sign cards.
Carnival sponsored excursions
Stingray Adventure
You will go with a guide to a secluded part of the island where you will be able to touch and interact with the stingray as they swim by. Another hit with the kids.
Horseback Riding
Ever wanted to ride a horse along the beach? Here's your chance to do it. You and your tour group will go with a
guide and meet the horses where you will ride them along the pristine beaches of Half Moon Cay.
Snorkeling
You will go on a boat to do some offshore snorkeling to see the amazing marine life and reefs. The water is so clear in this area, this is something you don't want to miss if you want to snorkel. 
Eco Bike Tour
If you don't want to enjoy the beach but don't want to stay on the ship, then the eco bike tour may be for you. You will ride a bike and hike around the beautiful island to see untouched nature in its finest.
Tram Calypso Tour
This is a 1hr tram ride around the island to see "behind the scenes" of how the island operates. 
If you enjoy the food on the ship the you will enjoy it on the island. There will be a lunch time BBQ to eat under the pavilion. This will include hamburgers, hot dogs, fruits, desserts, BBQ, etc.
There is also a lobster shack which is additional but can be charged using your sail & sign card. The lobster shack has some delicious items such as the Caribbean coconut beans and salsa or grilled spiny lobster with rice. 
There are several bars around the island where you can get your frozen concoction, ice cold beer or soda. There is the Lookout Bar, Bell Bar, Rumrunners Bar and the "I wish I could stay here forever" bar. The "Bahama Mama" is the traditional drink of The Bahamas. 
All food venues on the island are operated by the cruise line and food is brought from the ship.