Greenville, South Carolina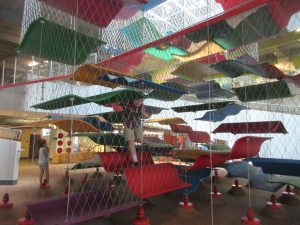 This was a trip we were heading to Atlanta and Charlotte for a short trip for the kids before they went back to school.
We headed down to Greenville, South Carolina to go to the Children's Museum of South Carolina. This was a fun kids museum. It gave us something to do to kill time for a little bit. We had nothing to do this day, we just wanted to get closer to Georgia.
We spent I think 2-3 hours here. It was fun for the kids, and a fairly clean museum considering.
I like Greenville, it's a nice small little town. It reminds me of somewhere like Blacksburg, Virginia. The museum fit right in. If you are heading here, once you pass the museum on the main road, you turn right at the next light and park behind the museum. They have a really nice outdoor area for the kids as well that's sponsored by Michelin.