Cap Cana
Dominican Republic
Normally I would be writing a blog post right now about a cruise. However this is 2020 and everything is going wrong.
Our cruise out of Puerto Rico was cancelled this year due to Covid-19. However we're not going to let a virus stop us from enjoying life. When our cruise was cancelled, we decided we would just fly to the Caribbean to enjoy ourselves since we couldn't go on a ship.
So we started looking at all-inclusive resorts all over the Caribbean and trying to find one in a country that was open. We found Sanctuary in Cap Cana, which is a subset of Punta Cana in the Dominican Republic.
We booked our trip, then played the waiting game. The country was closed until July 1st, and when it reopened the resort was still closed until July 15th. We were set to fly in on July 19th. It made us nervous but we just waited it out.
Finally on July 15th, they opened and we were allowed to go in. This made us ecstatic and we were going to be able to enjoy our trip! 
Normally we fly Southwest Airlines out of Raleigh anywhere we go. However due to Covid we were stuck flying American Airlines from Roanoke. It was a good reminder as to why we do not fly from Roanoke, nor American Airlines.
This airline charged us not only for our bags, but to pick a seat on the plane. That's ridiculous. I spent more money in luggage on American Airlines than I typically do on the flight itself on Southwest. Plus on Southwest, we pick our own seats for free. Anyway…
We arrived at ROA an hour prior to our flight. I could not check-in online since we were flying International, so I had to check-in at the airport. At least, that is what they told us.
We got to ROA and checked in, printed off our boarding passes and checked our luggage. Then we went upstairs to go through TSA and to our gate. ROA only has I think 4 gates, it's a very small regional airport. TSA was a breeze and it was even faster since we have TSA-Pre so we didn't have to take off our shoes or any of that. From the time I parked the vehicle until the time we were at our gate took maybe 10-15 minutes. It was quick. Then we got there, and waited.
Finally we were able to board our plane, on time. Of course it was a puddle jumper but it got us from point a to point b. By the time we took off and reached altitude, we were descending to land in Charlotte for our transfer.
We arrived in Charlotte 20 minutes earlier than scheduled which was nice. We were hungry by this point. Unfortunately due to Covid, most places in CLT airport were closed.
Bojangles was open though so we went there for breakfast. The line was long but moved efficiently. We both got a Cajun chicken biscuit, fries and a tea (combo) and it was $20. That's insane but it's airport prices. We were able to sit down and enjoy our meal. From there, we went into one of the stores to buy snacks and drinks for our long flight to the Dominican Republic. We found our gate and sat down and waited. We only had to wait about 15 minutes until our flight boarded. The flight from CLT to PUJ was uneventful and was pretty smooth.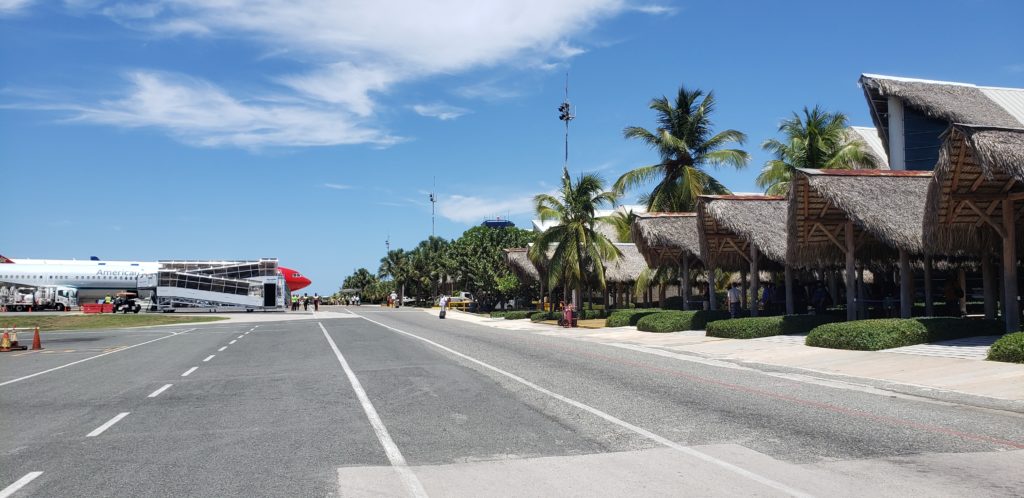 On time, we arrived in Punta Cana which let me say is one of the cutest airports I've ever seen. It's like little huts. Not a typical airport you would find in other countries or even here in the states. I loved the airport.
We deplaned on the tarmac which is where all passengers from all planes deplane at, as they do not have gates at this airport.
We were directed to the entrance which we went to. As we entered the airport, there was an infrared scanner you walked past with an agent monitoring it. No stopping, no standing, just keep moving. I assume they stop you if your body heat exceeds a certain temperature.
We proceeded directly to the immigration counter where we had to show our passports as well as our immigration papers and a health paper which I had filled out before we ever even left Virginia. The process was very fast here.
Then we went to baggage claim where we waited on our bags. With American Airlines they have an option on their app to "track your bags". Well, only 2 bags were showing up as loaded on the plane. The other showed it was still in Charlotte, which scared us. However as we were waiting on our bags at baggage claim, all 3 bags came down the belt which was a relief. We gathered our bags and found the exit to the airport.
Once we exited the airport, I was trying to find our transportation to our resort. There were lots of companies & taxis lined up trying to take people to where they needed to go.
I had pre-arranged our transportation through Renny Travel prior to arriving so that was taken care of. I finally found Renny where Luis and 2 other guys took our bags and loaded the van. They sanitized our bags and hands before we ever got into the van. Once we were loaded up, off we went to Sanctuary!
Cap Cana is only about 10 minutes from Punta Cana Airport so it was a short drive.
We arrived at the Cap Cana compound where we went through the security gate. There are several resorts in the Cap Cana community including Sanctuary, Secrets, Hyatt Ziva, Hyatt Zilara and they are also building a Margaritaville there.
We arrived at Sanctuary, where they unloaded our bags. Once they unloaded everything, they took our temperatures again via an infrared scanner, sanitized our bags and our hands again. They asked our information at the main lobby, then loaded us on a golf cart and drove us to The Castle, which is where we were staying.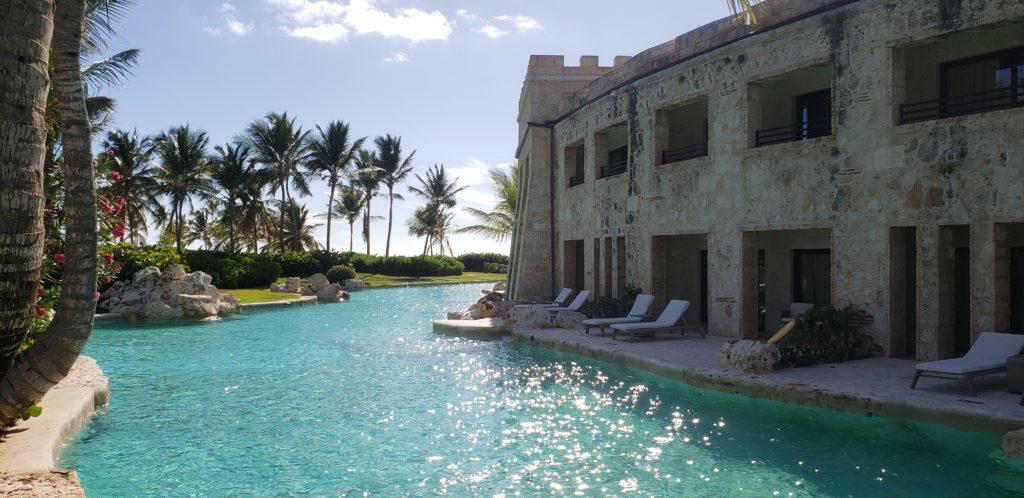 We arrived at The Castle where we went inside to check in. We had to wait for our turn to check in.
Sanctuary is operating on a skeleton crew right now due to the virus and also had only opened 4 days prior to our arrival. Once we finally checked in, our room wasn't ready, so they took us to lunch on the resort property at The Blue Marlin. The food was great here, and we really enjoyed the food and the view. After we finished eating, we went to our room, the 1 bedroom suite.
We arrived at our suite and started to unpack. It was very hot in the room, but we figured the air had been off and it was a huge room. We went back out to enjoy ourselves for the day.
Later on we came back to get ready for dinner and it was still hot. Our room had a private plunge pool so we spent the evening in the pool prior to dinner.
For dinner this night, we had a romantic dinner on the beach which included a salad, a ribeye, a bottle of wine and dessert. Now this is where the disappointment really was. This meal was almost $200 and we didn't eat any of it. The steak was full of fat. I made sure to leave that in my TripAdvisor review as well as let them know in my post-stay survey. I do regret not telling them then, as perhaps it could have been deducted but I was already frustrated with the room being so hot, I didn't want to be "that guest" that comes and does nothing but complain. I let it go.
After dinner, we spent the night in our room and in our plunge pool. Finally, we went to bed. It had been a long day. 
The next day we woke up early sweating. The room never cooled off. It was still almost 81 degrees in the room. I couldn't stand it any longer.
I went to complain about it and they said it would be fixed. We ordered room service for breakfast. I will say, the room service breakfast was not good.
After breakfast we went to spend the day in the infinity pool and just enjoy ourselves. Throughout the day we went to the room to see if the air was working, and it wasn't. They came 5 times throughout the day trying to fix the air. It never got fixed.
Finally that night, they moved us to another room, which the new room was the honeymoon suite. The air was working there and we were happy. The room wasn't as big but the private pool was twice as big and the view was amazing. MUCH better. So after the first day of a terrible room and bad food, that was the end of our complaints with Sanctuary. From there, it was nothing short of amazing.
The room was perfect, the food at The Blue Marlin & The Steakhouse as well as the breakfast buffet was awesome. GREAT food and great service.
The staff at Sanctuary really makes you feel important and everything was amazing. Our butler, Emilio as well as The Castle host, Enolky were fantastic.
I did get to meet Hairo which is the social media manager I had been communicating with for months. He was awesome and I really liked him. I could have talked to him all day. Emilio, Hairo and Enolky were amazing and we loved them.
Do not take my day 1 complaining as much because they made up for everything with a perfect room, great service and great food. We just had to learn not to use room service.
We did use the spa one day and got a couples massage which was amazing. I loved it and it went by way too fast.
The hydrotherapy was nice but the steam room was rough. The massages though, I highly recommend. They did not try to sell us a bunch of stuff, they let us enjoy ourselves and they were awesome. We'll definitely do that again when we return.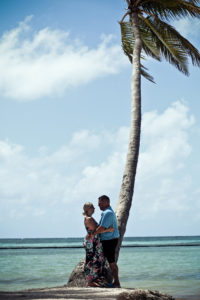 In the main lobby they have photographers that are wanting to sell you pictures. DO IT!
They do an amazing job. Our photographer went with us around the resort taking pictures and then edited them for us. We bought them all! They were so amazing. I highly recommend this.
Overall, I give Sanctuary a 5 out of 5 stars. They fixed our problem and everything was great. I highly recommend them and we will definitely return here.
The only caveat is Sanctuary Town was closed when we were there. I would not want to go back until Sanctuary Town is open. That way we have more food options including sweets. Sanctuary Town looks like a ton of fun! 
Macao Beach
Punta Cana, DR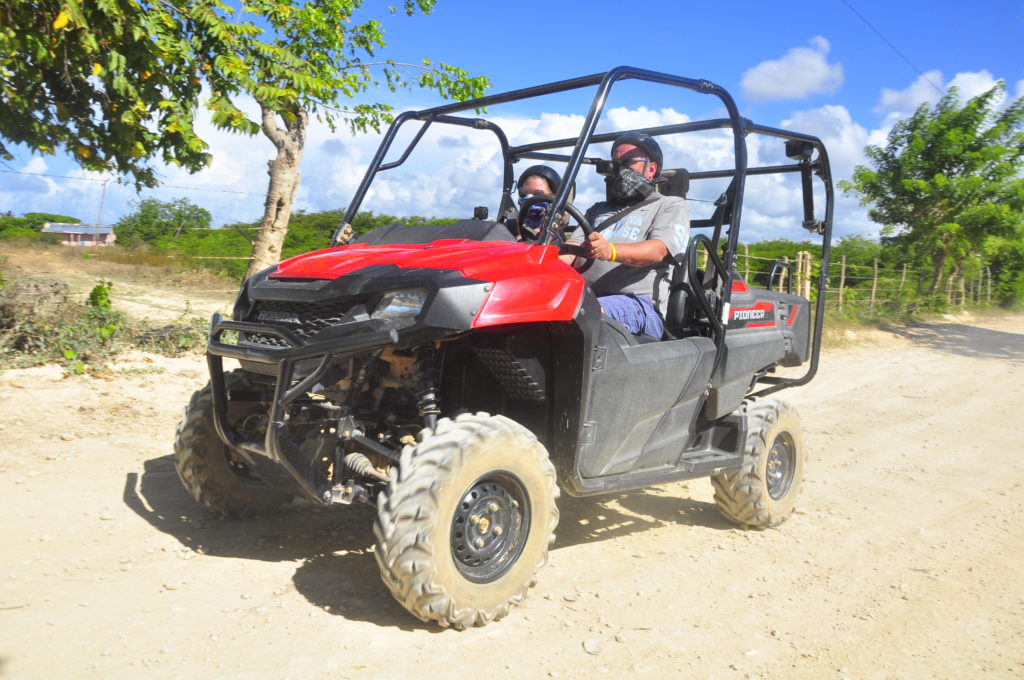 Prior to going, I booked 2 excursions through Renny Travel. The first was the Dune Buggy excursion.
Now I did not know this wasn't done through Renny, yet a third party. Renny ended up rescheduling us to align with other schedules which we weren't happy about but obliged.
He picked us up at the time designated and we went to the buggys. When we arrived at the buggy's, we had to fill out some paperwork and had a local kid trying to sell us homemade stuff. It was our anniversary so I bought one. I also told the photographers we'd buy a package. It was fair since I had my GoPro strapped to the buggy.
We rode through a few back roads past a few houses, en route to Macao Beach. As we past the houses, kids would run out trying to hand us fruits. We just kept going as I wasn't stopping.
We arrived at Macao Beach which in itself was absolutely beautiful. However there were a bunch of locals on the beach trying to sell you crap and harassing you rather than letting you enjoy your moment at the beach. 
From there, we went to another little shopping area. Before I even had time to turn the buggy off, we had kids running up to us to unsnap my wife's helmet, open doors, give us drawings/flowers, all for wanting money. Some even just came up and asked for a dollar.
The group went into a cave which we just watched. Walking to, and from the cave we were hounded by locals to buy stuff. Even when we got back in the buggy's, the kids kept coming up asking for money.
There was also a group in our group that had a bunch of teens with Bluetooth radios blaring music the whole time.
It was not an enjoyable day but Macao Beach was beautiful. We were just glad to get back to Sanctuary once it was over. I WOULD NOT recommend this excursion if you go to Punta Cana. Unless you like being harassed by locals to buy stuff rather than enjoying the dune buggies, which is what you paid to do.
I give this excursion 1 out of 5 stars.
Santo Domingo
Dominican Republic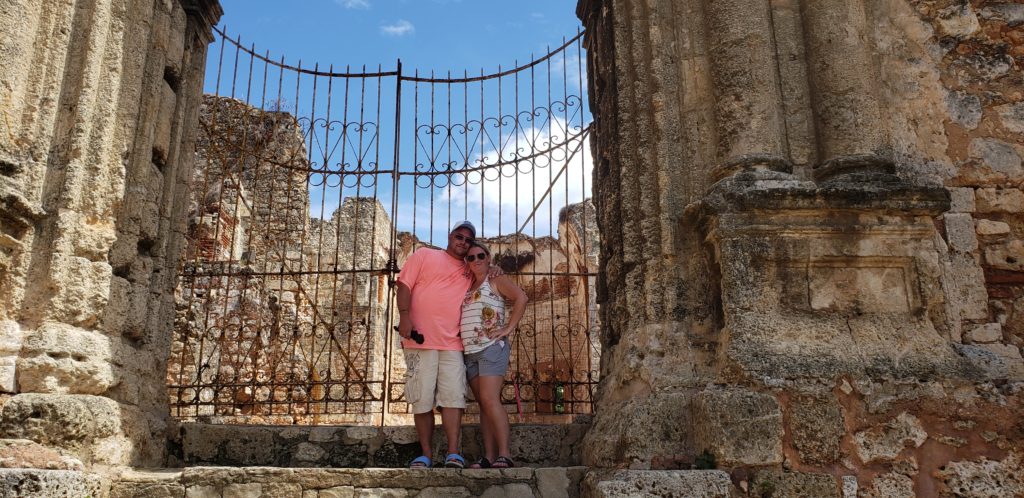 The second excursion I booked prior to going, was the Santo Domingo trip through Renny.
Our driver picked us up early Wednesday morning to take us to Santo Domingo. Santo Domingo is about 2 hours from Cap Cana. It's a pretty ride though past the sugar cane fields and seeing the countryside of the Dominican Republic.
We arrived in Santo Domingo where we were dropped off with a local guide. Oh, prepare to walk a lot on this one!
Our guide spoke great English and we started out at the gate to the old city. He stopped at every historical site there was.
We walked all around the old city seeing amazing architecture from the 1500's. It was simply amazing. We absolutely loved it. This was the one time during our whole trip we had to wear a mask. In fact, EVERYONE in Santo Domingo was wearing a mask. Even those on bikes. It was fine though.
We spent the morning walking around Santo Domingo seeing the beautiful scenery. Finally at lunch we went to a place called Buche Perico.
Now let me say that Santo Domingo is not a tourist city, so most people there don't speak English. Our lunch order was arranged by Renny and we thought everything was included like in America.
Well, it isn't.
We both ordered our steaks to be cooked well done, and they came to us medium-rare at best which we did not eat them. We did get dessert which was really good.
We ended up having to pay $20 for our drink/dessert. My one complaint would be to let you pick your own lunch as we past plenty of pizza places and other food spots that looked good. Buche Perico has a 4 star rating on TripAdvisor but it was just not for us. I want my steak well done. No pink. Also if something is included, I would expect at least the drinks to be included. Anyway, moving on.
After lunch we continued to tour Santo Domingo seeing some of the amazing sights to be seen there.
It was a great city and we really enjoyed our day in Santo Domingo. I wish I could remember our guides name but I can't. He was not an employee of Renny, just someone they knew that did tours for them. However I would highly recommend this tour, just make sure you make different food arrangements and pick your own food.
Because of the food issue and the way the driver drove there, I will give this excursion a 4 out of 5 stars. Had the food been decent and the driver drove a little differently, I would give it a 5 star rating. Unfortunately I deduct a star for those 2 reasons.
Unfortunately our day to depart has arrived, and we were leaving to come home.
We had been in the Dominican for 7 days and I wanted to stay much longer. We checked out of The Castle at noon, where we would pay our bill then, and get picked up to leave the resort. This was a sad day for us.
Renny came to pick us up at noon and off we went to PUJ.
We arrived at Punta Cana Airport where we would need to check-in with American Airlines.
We were dropped off at the front and someone took our bags and carried them for us to the American Airlines counter. I had checked in the day before on the app, but the attendant at AA said I needed paper tickets since their system wasn't working for digital passes. Whatever.
We paid for our luggage again, and then went into the airport. We stopped at Wendy's in the airport since it was the only place open to get lunch. The line was huge but moved efficiently. I believe it was $25 for both of us to eat. Again, airport prices.
We did a little shopping in the airport and made the way to our gate. Once our plane was ready, we walked out on the tarmac to embark our flight back to the US. No issues here, and we loved the Dominican Republic.
For Renny, I would give them 5 out of 5 stars on the transportation to and from the airport. I will use them again for this. Between the transportation, dune buggy excursion and the Santo Domingo trip, overall I would give them 3 out of 5 stars. I would recommend them to others, with exceptions (food and avoid the dune buggies)
We arrived at CLT on time. That's about the only good part. We deplaned and went into customs where there were 1,000+ people in line, snaked around. No social distancing or anything. It was horrible.
The line moved efficiently though. We finally made it to the US Customs & Immigration counter where we would give them our declaration, show our passports and be allowed back into the USA.
Then I had to go track down our luggage, which was a pain. After that, I didn't have a clue what to do.
We finally figured out where to drop our luggage for our transfer. We did that, went through another DHS checkpoint, then was allowed to continue to the terminal. We had to go through security again, to get back into the airport.
Thankfully with TSA-Pre that helped get through this process quicker. We made our way to the gate, where we would wait about 10 minutes for our boarding.
We boarded the plane and headed back to ROA. We arrived in no time. It was a very short flight. Once we arrived, we got our bags and headed home. We even arrived early enough to pick my oldest son up from work.
We made it home safe with no issues, at a decent time. I even unpacked some that night. 
This was a wonderful trip and it was fantastic to get away to the Caribbean for a week during the Covid situation. The Dominican Republic is LIGHT YEARS ahead of the United States in terms of safety and how they are handling things for visitors. From buffets to masks to temperature taking to sanitizing to everything. It's MUCH safer in the Dominican Republic than anywhere in the United States right now. I would LOVE to go back very soon.
If cruises don't resume soon, that's where we're headed again soon.
I will never fly American Airlines or through Charlotte again if I can help it. It'll be Raleigh on Southwest. If Southwest doesn't go there, it'll be on another airline from Raleigh. Charlotte is horrible.
Sanctuary is simply amazing and I highly recommend it to everyone. We loved our time in Cap Cana and we'll see you soon Sanctuary family!!