Cocoa Beach, Florida
Day 1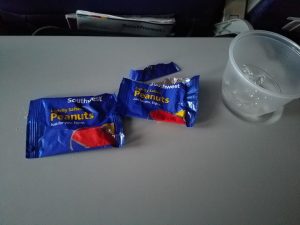 Our flight was very smooth from RDU to MCO. We arrived in Orlando at 7:05am and deplaned. The flight was great as always. I love flying on Southwest. I had an early morning breakfast of 2 packs of peanuts and a Dr. Pepper.
We got our luggage and went searching for the rental cars. Finally I found National Rental Car. Since I am an Emerald Club Member, I don't have to go to any desk. I had made my reservations online and simply go to the lot, grab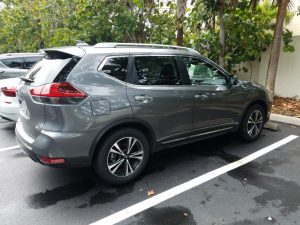 a car and go. I almost picked out another Jeep but remembering how the thing crumbled after we got hit in Miami last year, I decided against that.
I ended up picking out a Nissan that had just been put back. It was a nice SUV. It was $267.72 for 2 days which included drop off at a different location since I was going to drop it off in Cape Canaveral.
Once we got the car we were off. It was still early in the morning and I knew we couldn't check into our hotel so we went to Kennedy Space Center instead.
I knew we would be tired today so we would end up spending 2 days at Kennedy Space Center.
I did the math before we left and for all of us for 2 days + parking would be $588. The better deal was to buy annual passes. I ended up buying all 4 of us annual passes for $366.65. This gives you passes to get into KSC, KSC Explore Tour, 10% discounts on purchases, and free parking. We only went 2 days but we still saved over $200 by doing this. Plus if we end up going back to the space coast within a year, we can go back! #NoBrainer
We arrived at Kennedy Space Center around 8:30 but it doesn't open until 9, so we drove down the road a little ways and found a Cracker Barrel. We were starving! The service here was nice, it was in a good location and the food was great as always.
Back to Kennedy Space Center we went after breakfast. This time, they were open. 🙂 I presented my annual pass and didn't have to pay the $10 parking. We parked fairly close and into KSC we went!
This was an awesome place and we learned so much here. We checked out all of the rockets out front, then took our tour several miles out to the launch pads. This was super cool.
The crawler that is used to take the shuttles from the VAB (Vehicle Assembly Building) to the launch pad is massive. It is 131ft long by 114ft wide. It's between 20-26ft tall (adjustable) and weights 6 million pounds. The load capacity is 12 million pounds! It moves as a whopping 1mph loaded (2mph unloaded). We also rode down to see the SpaceX building and where they're setting up to launch their next rocket. The VAB also has the largest garage doors in the world, taking 45 minutes to open. It also has the largest painted American Flag in the world.
We also saw the Space Shuttle Atlantis here which was pretty cool. We have seen the Discovery in Washington D.C., so seeing the second was really cool. Now a trip to LA to see the third?

By this time, it's getting late (ok, so maybe it's only around 4pm but we're tired!). We decided to call it at a day at KSC so we went to our hotel. We had been up since around 3am!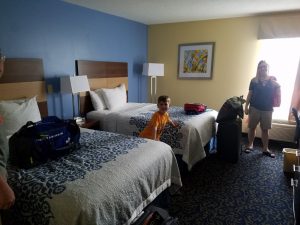 I had booked the Courtyard by Marriott in Cocoa Beach since it was on the beach and close to the cruise terminal. I also originally booked this hotel since it had a free shuttle to the cruise terminal. Normally I book hotels through Hotels.com but since I am a Marriott Rewards Member, I booked through the Courtyard directly so I could get my points. We had 2 nights booked for 2 queen beds + sofa bed and a balcony. The total was $491.68
The hotel was very nice, as expected from a Marriott property. The location was nice, staff was great and room was great. The only "complaint" I would have was on the beach there was a TON of seaweed. Now I have been going to beaches all of my life, from Key West all the way up to the Chesapeake and I have NEVER seen this much sea weed. It was crazy. I don't blame the hotel though for obvious reasons and it was like this as far as the eye could see south, all the way up to at least Port Canaveral. Hopefully the state gets it cleaned up.
Once we got checked into our hotel, checked out the beach, relaxed for a few minutes we decided we were hungry. It's time for dinner!
We ended up riding up to Cape Canaveral by the cruise port to eat at Grills. I had gotten this recommendation from our Facebook roll call for the sailing.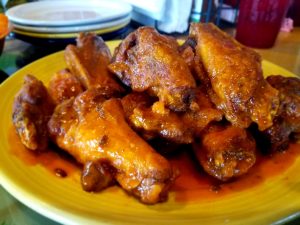 They said it would be a 45 minute wait, which it was 6pm so I figured it would be like that anywhere since it's dinner time.
We took our pager to walk across the street to the surf shop to kill time. No sooner than we got out the door to the street, the pager went off. I swear she said 45 minutes. Maybe she meant 4-5 minutes? Anyway, we got set and ordered our drinks and food. The food was fantasmic! We all loved it and it will be our go-to next time we go out of Port Canaveral. I can't say enough good things about Grills. Not to mention they have live music outside and a great view. I ordered Voodoo wings and they were awesomesauce! My son ordered a grilled cheese and my other son ordered French fries. My wife had grilled chicken and we all had tea. The total was $51.88+tip. Not bad at all!
After we left Grills we went back to the hotel. We ended up walking down to the beach again to get some shells. Then we just went back to the room to head to bed. We were beat!
Cocoa Beach, Florida
Day 2
We slept in this morning because we were so tired from yesterday. Once we woke up though, we decided to head out for some breakfast. There was a Waffle House close by so we decided to go there. It was something cheap and easy. It was $45 for the 4 of us to eat which wasn't bad.
After we left Waffle House we went back to Kennedy Space Center. We went to see everything that we missed on day 1. We wanted to make sure we saw everything there and didn't miss anything which we accomplished.
Once we were done at Kennedy Space Center we went back to Cocoa Beach and stopped at McDonald's for lunch. Gross. I ordered "a number 1 with large sweet tea please". The lady asked me if I wanted to make it a combo meal. Here's your $15/hr. I kindly explained to her that a #1 (or any NUMBER) was a combo meal. $20 later and 2 nuggets short, we went behind McDonalds to Winn-Dixie to get our cruise supplies.
We got our 4 cases of soda and bottle of wine. They had some Castello Del Poggio Moscato for $9. This same brand is sold on the ship for $35. We also bought my youngest some sand toys to use when we're in port. We always buy them before we cruise then just throw them away in ports so we don't have to deal with the sand.
After we were done shopping we went back to the hotel to drop everything off.
By this time it was getting to be dinner time so I decided to go ahead and take the rental car back. I topped the car off with gas and went to Enterprise to turn it in. (National is owned by Enterprise). They were closed so I just dropped it off and put the keys in the lock box. I then ordered my Uber to take me back to the hotel.
From Enterprise in Cape Canaveral to our hotel was $12.68 for my Uber and took 13 minutes with Sylvester.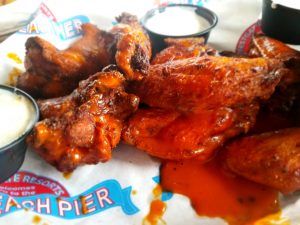 Once I got back to the hotel, we wanted to go to dinner so I ordered another Uber to take us to the Cocoa Beach Pier. (My wife didn't want to take the free trolley). This Uber was $7.12 for a 6 minute ride with Kevin.
We ended up eating at Pelicans at the pier. The food was good here, there was no wait and we sat by a window watching the surfers. Once again I got wings. My wife got a chicken sandwich, both kids got burgers. It was $61 to eat here + tip.
After we finished eating, we watched the surfers a little more from the pier, then ordered another Uber to go back to the hotel. This ride was $7.04 for a 8 minute ride with Shaquan.
We got back to the hotel and went to the beach one last time. After we enjoyed a little time on the beach we went in to pack up. Tomorrow is embarkation day!!!
We definitely enjoyed our time in Cocoa Beach. It is close to Kennedy Space Center, Port Canaveral and lots of places to eat. When we sail out of Port Canaveral again we will definitely stay in Cocoa Beach.
I know a lot of cruisers stay near the port but go a mile down the road and enjoy all that Cocoa Beach has to offer.
Hotel grounds
[rl_gallery id="1302″]
NASA
[rl_gallery id="1273″]