Why should I decorate my cabin door?
When you stay at a hotel, it's very easy to know where your room is. All of the rooms are labeled with a room number, and the app you use to get into your room has the room number, or if you're at an old hotel that still uses key cards, the sleeves have your room number. 
This is different on a cruise ship. The first thing you need to do, is remember your cabin number. Your sail & sign card does not have your cabin number on it. Then you need to remember what deck it's on, and which side (port or starboard) and the location of it (aft, fwd, mid?). After you're in the general area, then you have to remember which cabin is yours.  Once you add a few adult beverages to the mix or even have small kids, it gets impossible to find your cabin. 
When you decorate your cabin door, it makes it much easier to find your cabin when walking down a hallway of cabin doors that are all identical. This also makes it easier for your friends to find your cabin, or you to find people that's in your party. 
There are a few simple rules to follow when decorating your cabin door. As long as you follow the rules, the steward will leave your décor in place and you'll have a cabin door that's easy to remember, and that stands out.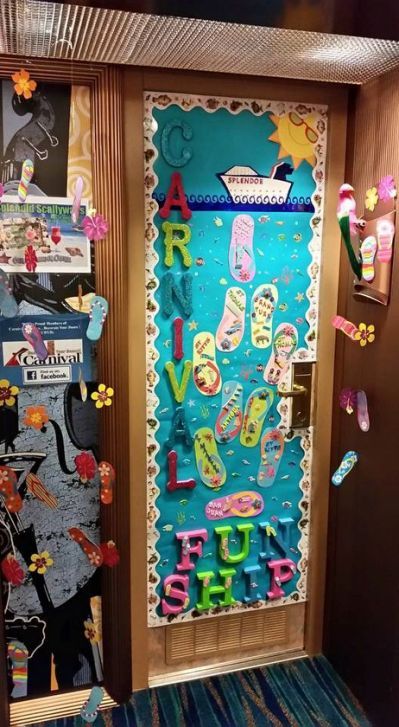 You can look on Pinterest to get ideas on how to decorate your door, or you can order custom banners from CustomCruiseWear You can also buy things from your local party store or Amazon to add to your door. 
Holidays
If you're cruising over a holiday, you may want to decorate your cabin door in a holiday theme. Perhaps Easter eggs, or pumpkins or maybe candy canes on your door. You can also just be patriotic and put a flag on your door. 
Local décor
You may be super proud of where you're from and want to decorate your door with something displaying where you're from. Maybe pictures of Niagra Falls, or a Texas rodeo or perhaps a beach theme. 
Sports theme
This is common and easy. Decorate your cabin door with items from your favorite sports team. Perhaps colors from the team, the team logo, pictures of players, etc. Just be prepared for feedback from opposing fans if you go this route. 
Destination theme
You can use pictures or themes of the ports you're visiting on your cruise. Perhaps ruins in Mexico or flamingos in Aruba.