In case you stumbled upon this page without reading the first few days of this vacation, you can catch up on this journey by reading the post below. 
Wednesday, May 22 2019
Ft. Lauderdale, Florida
We woke up at 4:15 this morning since we had to catch the 5am shuttle. I always take a morning shower, so I got up, showered and got dressed. We grabbed our luggage and headed downstairs to catch our shuttle.
The shuttle driver was right on time, and we loaded up with 1 other couple and headed to Raleigh-Durham International Airport which was just a few miles up the road.
The other couple had a 6:30am flight and I think it was their first time ever flying. They were almost in a panic because they thought they were going to miss their flight.
RDU is a very relaxed airport and usually not extremely busy in the mornings. You can get dropped off, through security and to your terminal in just a few minutes if you use the skycap for your luggage.
They were pissed that we were being dropped off before them, but we were flying Southwest and they were on another airline. The shuttle drops passengers off in the order of where the terminals are at the airport. I am sure the other couple made it just fine.
When we got to security at our terminal, there were maybe 20 people ahead of us.
We made it to our terminal, bought drinks for the flight, and sat and waited for our 6:30 boarding time for our 7am departure.
We boarded the plane with no issues on flight 1263 headed to Ft. Lauderdale, expecting to land at 9am.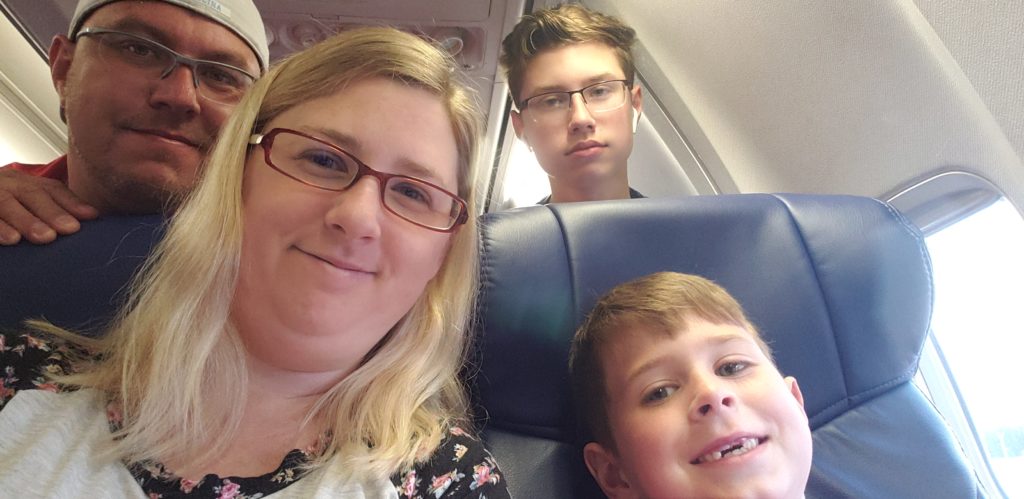 The flight was nice as usual. We love flying Southwest because they have the best customer service, the free bags, free movies/tv, free drinks/snacks and most importantly, the open seating.
We had boarding positions A22, 23, 24 & 25. We got on and picked out which seats we wanted. The flight attendants did the safety drills and off we went to Ft. Lauderdale!
The flight was smooth, clear skies, no turbulence, and just a great flight, as usual.
We landed in Ft. Lauderdale and went downstairs to grab our luggage. We got our luggage and outside we went to grab an Uber to head to our hotel. It took 3 minutes for our Uber to arrive. We rode with Francisco in his UberXL for 23 minutes for a cost of $27.56. He took us and dropped us off at our Airbnb we rented at the Marriott Beachplace Towers in Ft. Lauderdale Beach.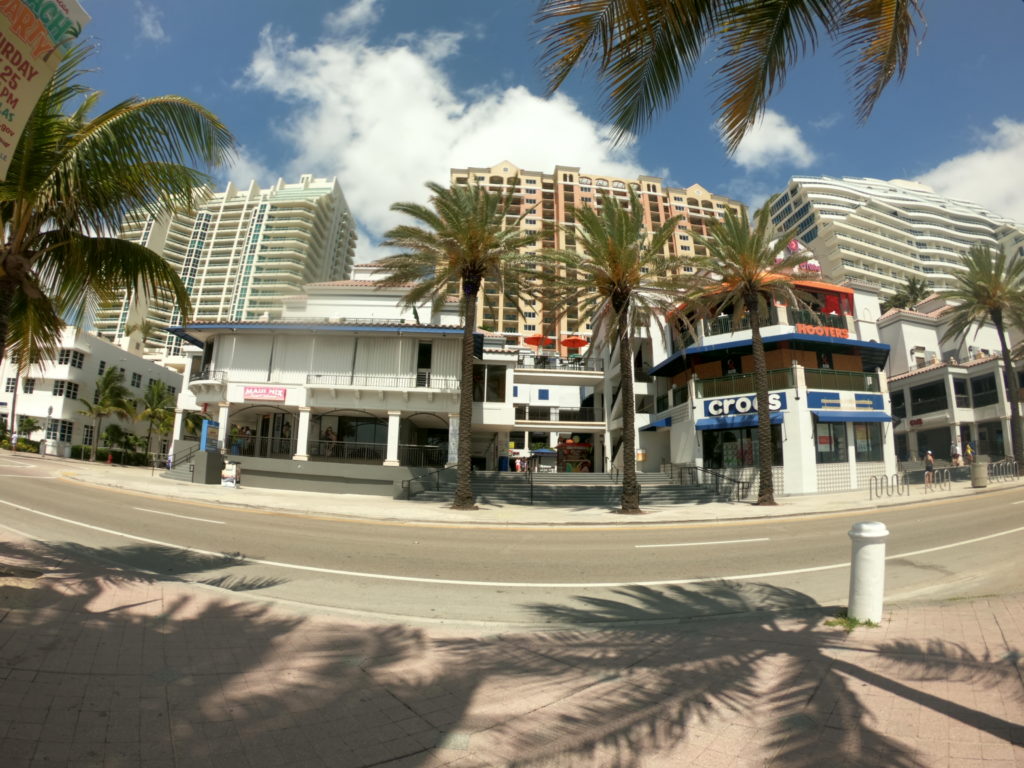 It was early and I knew our room wasn't ready.
We went and dropped our luggage off, which the Marriott would hold for us until our room was available. We dropped the luggage off and decided to explore the resort. It was very nice! They offered a game room with all free games, Xbox, PS4, etc. There was also a store on site if you needed it. There is a very nice fitness center, and they also offer free laundry services. There is a spa pool, pool bar, spa, restaurant all on site. They also have free wifi and daily activities. The resort is beachfront at the The Gallery at Beach Place. There's a CVS downstairs, Escapeology escape rooms, Hooter's, Lulu's Bait Shack, Haagen-Daaz ice cream, Maui Nix Surf Shop, a typical beach shop, and several little shops setup around the plaza. Lots to walk to, plenty to do. This is the PERFECT location.
If you read last years anniversary blog entry, you know we spent most of our time in this area. When we're on vacation, I want to be at the beach, with stuff to do. I don't want to pay all that money to be at a hotel 10 miles away from the beach. That just creates a lull in the trip.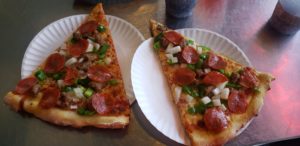 Once we finished exploring the resort, we took the elevator down to the beach level, and decided to go eat lunch since we didn't have breakfast due to the early flight. We had already determined we would eat lunch at Primanti Brothers since it wasn't too far away.
We went ahead and walked up the beach to Primanti Bros and sat down and got some lunch. Now if you've never been here, this is a pizza joint that's open 24/7 on the beach. They also have breakfast as well. It's a Pittsburgh based pizza restaurant. We went in and ordered our pizza. The service was good, the food was delicious.
After we finished eating, we shopped in the stores next to Primanti Bros to kill about 15 minutes.
Then we used Circuit to pick us up and take us back to the resort. Circuit, formally known as The Free Ride is a group of 6-seater golf carts that ride around Ft. Lauderdale giving free rides, in exchange for tips. They do advertising on the carts is how it's funded. It's pretty fun to ride in them too!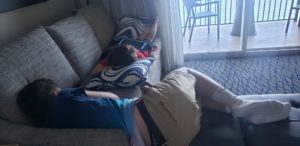 Once we arrived back at Beach Place, we went ahead and went to our room since it was ready by then. It was great! Our host Tony was awesome in communicating with us prior to our trip and we knew what to expect. Plus it was a Marriott property which is usually where we stay, so it was a win-win. We got settled in the room and I think we all took naps.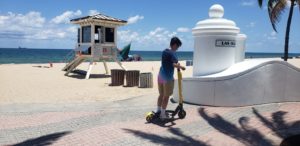 Once we woke up from our naps, Kobie and I decided to go ride scooters along the beach. The scooters were so much fun! They are electric scooters and it's $1 to start then $0.15/mi to keep riding them. We spent $11.75 riding which wasn't bad for 2 scooters, for as long as we rode them for.
We went from north of Primanti Bros., down to Ft. Lauderdale Beach Park and did this several times. Meanwhile, my wife took Kolbrin to the game room in the resort so he could play some. The boys were having a blast.
Pro Tip: If you're in the Ft. Lauderdale Beach area and near the Circut loop, you can text them to pick you up. Just send a text to 954-603-4500 and tell them where you are and where you need to go. They'll respond with your driver and how long it'll be until they get there. It's usually a 10 minute wait. I tipped the driver $5 each trip.
Finally we decided to get Circuit to take us to Publix so we could get some chips/snacks and drinks for our few days in Ft. Lauderdale, as well as 2 bottles of wine to take on the cruise with us. We got stocked up, called for Circuit to come pick us up and take us back.
We went back to the resort, dropped everything off then walked downstairs to Lulu's for dinner. Lulu's Bait Shack is our favorite place to eat at. They have the absolute best buffalo shrimp and I could eat there 8 days a week.
After dinner, we went back up to the room and just hung out and watched TV. It had been a long (early) day for us. Tomorrow is a new day with things to do.
Thursday, May 23 2019
Ft. Lauderdale, Florida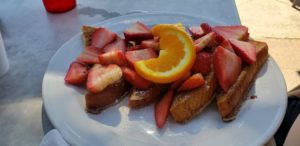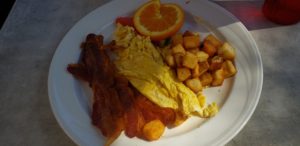 Today is a new day! I think we woke up around 9am and decided to get breakfast. We walked down to Boccacino Cafe & Pizzeria which was right next to our hotel just on the other side of Las Olas Blvd.
We sat right on the beach and had great service! My wife and I as well as Kobie ordered 2 eggs, bacon, fried potatoes and fruit. Kolbrin ordered some strawberry pancakes and he ate every single bite of them!  It was $75 for the 4 of us to eat but man it was worth it. So good!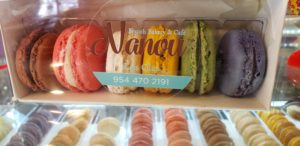 After we finished at Boccacino Cafe & Pizzeria, my wife knew exactly what she wanted. If you read my posts from last year, you know what she wanted too.
So, we walked around the corner to Nanou French Bakery which is right at Las Olas & A1A. This is an authentic French bakery. My wife LOVES their macaroons. I think between her macaroons and my eclairs we spent $50 in there this time. It was good though.
After this we went back to our Airbnb and put the goodies in the fridge. Then Kobie and I took off on scooters again and rode up and down Ft. Lauderdale Beach on them. We just had a blast! Meanwhile, mom and Kolbrin went to the game room at the resort so he could play some more.
After we were all done, we met back up at Haagen-Daaz for some smoothies. I think it was $35 for 4 of them for us. We sat out in the Beach Place courtyard and drank our smoothies. By this point, we were tired again. Those scooters will wear you out, haha. We went back to the room and took naps for a while and just rested on the balcony.
Finally it was dinner time so we walked downstairs to our favorite place, Lulu's Bait Shack. We all got our typical meals from here, and just enjoyed watching the people on the beach and the cars drive by.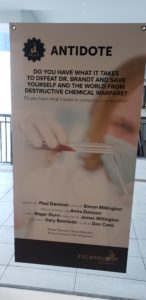 After we were done at Lulu's, we decided to try an escape room. We went over to Escapeology which is just 1 floor up from Lulu's. It was $125 for the 4 of us, for 1 hour in the escape room. The first room we did was the easiest room, The Antidote. Escapeology does their rooms different than the ones I've been in before, which is in a good way. Their staff is very professional, super nice, the atmosphere is great, everything is clean. We loved it! I do admit though, our time ran out so we didn't escape. It was worth the $125 though and we had an amazing time!
After we were done with the escape room, we went downstairs to the beach shop. I think it was called "Wave" but am not certain. We bought a few shirts and a plushie for Kolbrin, then went back to the room. It had been a long day. We took showers and hit the pillows for the night. Tomorrow is a new day.
Friday, May 24, 2019
Ft. Lauderdale, Florida
We woke up around 9 again, and decided to go back to breakfast at Boccacino Cafe & Pizzeria.
We had the same waitress and ordered the same food. It was delicious as yesterday and the food was just as good. The price was the same also. I won't bore you with duplicate pictures and details.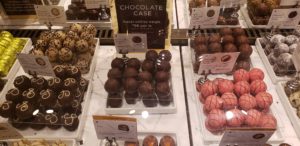 After we left Boccacino, I think our day was a repeat of yesterday. We rode scooters, had smoothies at Haagen-Daaz and played at the beach.
We decided to call for Circuit to take us over to The Galleria Mall. This is a small mall with a very weird layout. We didn't really shop much here. We did go into the Godiva Chocolate store to get some chocolates because it looked and smelled oh-so appealing.
From the mall, we got Circuit take us back to the resort. We spent the day hanging out around the resort, beach, and riding scooters again. It's just a great area and so much fun stuff to do. Oh I think we did some more shopping at Maui Nix Surf Shop downstairs.
Once we were finished at Maui Nix, we decided we wanted to do another escape room at Escapeology. So we went up there, and this time decided to to TH3 C0D3 which the premise is that some kid hacked a nuclear weapon or something like that, and you have to decode the room to get access to his computer to deactivate everything. Kind of confusing but it was very fun. It was medium in terms of difficulty and we beat it!!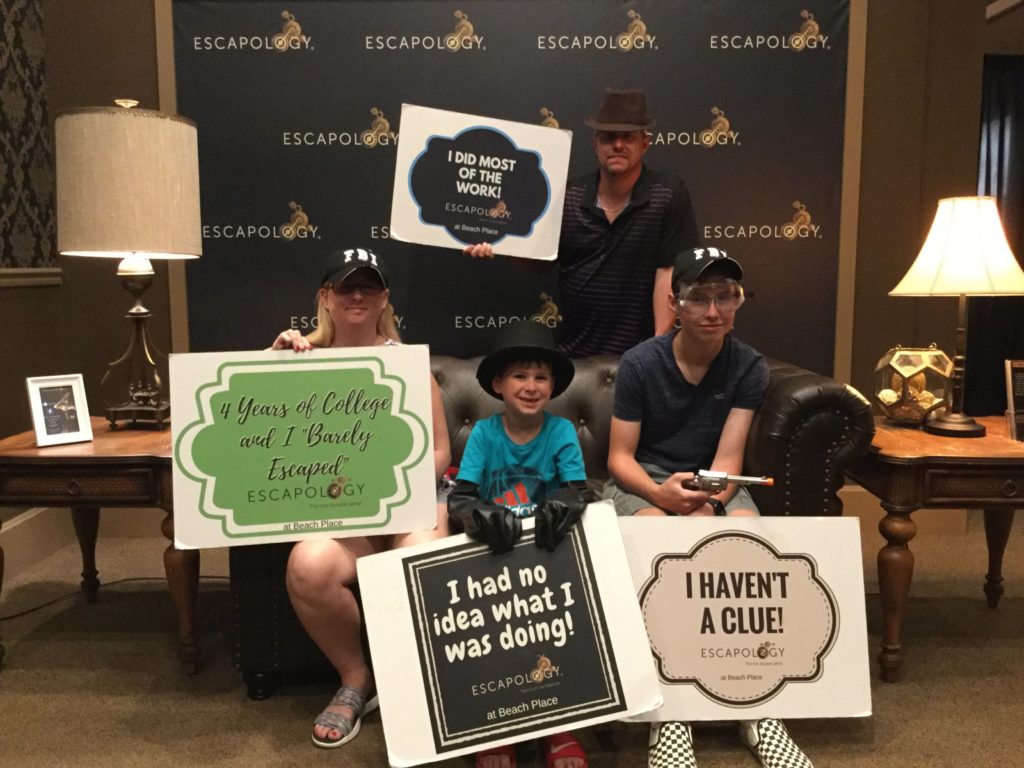 After we were done, I decided to catch up our laundry since the Marriott had free laundry services. I got everything washed, things packed up and ready to go for tomorrow. After all, it's CRUISE DAY! I spent the rest of the night watching baseball, until I could fall asleep.
To continue reading about this vacation, click the blog entry below. 🙂
Park N' Fly Ft. Lauderdale
Looking for somewhere safe and secure to leave your vehicle when you fly from FLL? Look no further than Park N' Fly Ft. Lauderdale. 
Click here to see rates